In Progress

Saratoga
My next book is on a fictional character, Greek God Saratoga. Goddess of Dementia and the Elderly. The story takes place in Northeast Wisconsin with a nurse named Lily Vauldarrt.

Saratoga

Chapter one:

My name is nurse Lily Vauldarrt I am a middle age nurse of northeast Wisconsin. I grew up in Sturgeon Bay Wisconsin and was raised by her mother and father in a family that made a living doing dressage for local and national horse breeders and for show horses. Now I
work in a nurses unit for patients with dementia associated with Parkinson disease, as well as Alzheimer and other forms of mental health in Green Bay Wisconsin.

My mother was raised in Wisconsin too, in a family that built wooden bridges for the local people in towns and villages in the early nineteen hundreds. They would build bridges using wood cut right from the forest in their back yard and would dry the wood in their barn. Anything from high traffic walking bridges to backyard decor. The family horse and wagon would be plenty of power to move the logs to the building location as well as carrying the rickety old tool boxes and then, modern tools. Mostly chisels and saws made in the early nineteen hundreds. They all had old wooden handles and tools with odd shaped body dimensions to elude the onlookers view of a carpenters handy works. My mother would be squashed between my grandfather and grandmother for the ride. When they weren't building bridges they would make their living off of selling wood bowls and other wooden crafted household items. Until the nineteen fifties when wooden items would not be selling as well as in the 1930's and 20's. After losing business slowly in the 1940's they decided on raising horses and training horses for a living, slowing diminishing the old family business.

My mother and fathers farm was a farm that housed two trailer homes bought in the early 1980's. One that had been occupied by a little old lady addicted to beer, and made sure that it was always on tap right on her sink next to the faucet. The local Anheuser distributer would show up weekly to tap the barrel of Bud to her sink. The other house was used by my family, just one of the two families that had bought the business of dressage. All the horses were either from local citizens that used the barn to house their horses or to house the horses that needed to be trained and were hired by breeders and people that raced horses. A very large amount of property right outside of Sturgeon Bay, just slightly north off highway 57. Just big enough for running the horses and enough room for training needs. Our barn was big enough to train indoors in the winter and at night. A beautiful view of the night sky at night and a very open spacious neighborhood with mostly tucked away farms.

I now resides in an old farm house that use to be a corner house gift shop and had a coffee shop right off highway 57 in brown county, just south of Dyckesville on Gravel Pit Rd.

I bought it and now use it for my one horse and I train as an armature Jockey. I practice Jockeying at the local rugged privately owned tracks and as well on my long weekends off I drive to either Iowa or Illinois race tracks, using my old Chevy pick up with a trailer that only houses one horse. A very humble set up and very peaceful application to my days off of work. One way for a person to really get away from life and just breath a little bit differently.

I have a life long medical issues with abnormally high levels of hormone cortisol. Your adrenal glands produce cortisol. It helps with a number of your body's functions, including: regulating blood pressure and the cardiovascular system. Because of this I have been plagued with spontaneous blushing in my face and in correlation to my body shaking with the hair raising on my arms since I was a kid. My heart would race every time I was called on by a teacher to answer a question. Or if I was embarrassed by the subject matter being discussed. My body would break out in to goose bumps and I would then avoid any sort of public meeting. Private meetings are even worse given everyone is right in front of me. I never could bring my self to do reports in front of the class or appear in front of large and small groups of people where all eyes were on me. Many years of dealing with a medical issue and being curious as to why it would happen I became intrigued in the study of medical issues.

I eventually studied nursing and psychology at the University of Wisconsin Madison. A lot of my researching was in mental health, such as Parkinson Disease and Alzheimer's. The study of plaque and tangles is a study of an accumulation in protein in the back top part of the brain which is the cause of mental illnesses called Parkinson, Lewy body, Alzheimer and other issues of loss of memory and dementia.

I also studied the phenomenon of seizures in college. I really like the aspect of the natural energy and the way that the Ancient Egyptians would use natural energy many years ago. It got me to start diving into the study of seizures, or just natural energy in general. The most intriguing part of the study of Ancient Egypt is how they housed the energy. The pyramids still have energy showing up in snow like particles in pictures taken at night 70,000 years later.

Change in magnetic field is simple physics called induction. One area has a lot of ability to conduct energy that meets an area that has little ability to conduct energy. Natural electromagnetic energy geomagnetic strength during the day and weaker at night.

It's kinda the same with seizures. Our body stores energy differently and accumulates it to a point where it bursts. Kinda like the bursting of the interior of the pyramids.

There have been a lot of books written on the subject matter of rising out of ones body and being able to see they self from above. As well as sighting of Jesus and Mary and other saints throughout our history. Personally I think the ability to rise out of ones body is actually a seizure. A disorder that causes a lot of energy to go back and forth through both sides of the brain. I believe that those people that have sighted themselves coming out of their body are just experiencing a seizure and they are believing that their seeing themselves coming out of their body. The reason for my theory on this is that some people that have seizures in their sleep have seen themselves rise out their body above them when the seizure was taking place.

As far as sighting of the religious figures through out history, some psychologist call is delusions of grandeur and I call it a serious miss in information. When there is no ability to communicate with the rest of the world in past times with news papers and TV we have to realize that when so many people have the same vision and or similar visions, with the same details, that there has to be some truth to what they witnesses. How else would one know unless they had a document claiming the other persons vision? They couldn't without news papers, and there weren't any at many of the times when people in history have reported seeing angels guarding their home and or seeing sites of Mary or Jesus.

Speaking of which, The National Shrine of Our Lady of Good Help is right down the road from my house. It a place of worship where Visions of Mary mother of Jesus On Oct. 9, 1859, Adele Brise, a young Belgian woman said the Blessed Virgin Mary appeared to her at Champion in Brown County. The chapel now brings in tourism from all over the world and as well, myself. I am very interested in how death can lead to energy being left behind. Whether its temporary and or for long periods of time. Its really amazing how people have witnessed energy in the form of humans many years after a person passes. I believe that this closely related to all my researching on natural energy, mental health issues, with the growing problems with plaques and tangles.

It's fascinating how all my researching all came together. I would spend my childhood training horses right from birth and as well training old horses to do new things–teach and old dog new tricks. And my interest in blushing as a medical issue came into correlation with my fascination with Ancient Egypt use of natural energy, which correlates with my study of seizures.

One minute we feel like we've wasted our whole lives with random and one day all that random all adds up to be correlated interests.

Chapter two:
Most people don't believe that people can live off enough natural energy in this world where no one would ever have to pay for it. There is plenty to go around, that's for sure. Most people don't believe in ghosts, but they believe in the Holy Ghost.

Some people don't believe that people can rise out of their bodies, the separation of mind, body, spirit. But then they go to a holistic healer and they think how wonderful it is to be in the presence of holy energy.

One of the most fascinating things about the human being, is the ability to make up ones mind instantaneously. The mind is the most powerful tool on the planet and it can make some people very ignorant. The most particular beast of all mental health issues is ignorance.

The study of seizures has an interesting twist with the need for the body to use up all that energy. It has no where to go, but yet its not harmful at all to the actual brain. The harmful affects is when the person falls and cracks their head open and or if they end up with an extreme seizure that would give them an aneurism. Wouldn't it be the most fascinating thing to find out something off the wall that the person is witnessing the future and or something very odd like a human portal? Kinda like autism, what on earth are they really thinking about during their states of mind?

With seizures, even if you never have one, the brain still sends energy through your right and left sides all day everyday.

Natural energy and the idea that energy is left behind when a person dies, to me, is the same idea of natural energy of the planet that just stays here and can be tapped into any time we want. For me, its the same as the Holy Ghost or Holistic healers. You can choose to tap in anytime you wish. And then you have things like lighting. It comes and goes as well as seizures. Its all fascinating.

Chapter three :
Many years ago I was partying with my friends in Door County and we had been playing miniature golf in upper Door. We decided to stop off at a tavern on the back roads on our way home to southern Door. Our driver had too many to drink and on our way home we had a near miss with another car. I never new what it meant when people would say that they had their life flash before their eyes until it happened to me. Now I get it. Life is short and it really can happen to people. You end up seeing things a little clearly after words. I just remember seeing all the things and memories that I had not chosen to remiss over in my life, all come back in a flash. Everything really does slow down when your life flashes before you.

That's when I really started to take the idea of the after life more seriously.

In the many years of people believing in the Holy Ghost and the possibility that a saint or the Virgin Mary could come and visit living people on earth has never really come to my most dearest possessions. Nor has it ever occurred to me that it could ever happen to me. And even after reading about the vision of Mary in Door County, I never could assume that I would ever really be involved in the higher thought process of energy sticking around after ones passes on, or energy coming back after many years of it passing. I mean how on earth can energy come back in the form of a human after being gone as long and Mary has been gone? We're talking about almost 1900 years.

Sometimes when I am riding in the country I feel the holiest feeling of the love of the Lord. I can feel like the Lord himself is keeping tabs on me. I am not one to ever believe that the Lord wishes bad vibes on any one human or on any one life. But this "Being Close to God" phenomenon is really an amazing gift to be granted. I can never be more humbled then to have had this opportunity to meet the Lord in this life. I feel just terrible for those that have not had the opportunity to be so close to the Lord.

It all happened many years ago. I was blessed by the Lord with no regards to ever thinking the opposite, or any other abnormal difference then just daily normal life. And we're talking about over a long period of my life. Not just temporary. Maybe that choice is made within the person to chose the opportunity to experience the best in life. Maybe its all about giving the Lord the chance to let him in and to be in your best witness to this life. If one doesn't then they will never know the what possibility can be offered in life or with the Lord.

I guess I chose to let God be apart of me. And as well to let go of the hate that people chose to toss my way. If the past was hard to get through, sometimes people just choose to accept the option of the Lord. Sometimes if someone has had it easy in life, they have no need to accept another option or need for any other thought process of life and death.

So the story of how I found the Lord, or let the possibility in, is a little mundane but that seems to be just how it happens. I was washing my cloths one day with no changes in my routine. Just your standard day of washing cloths. You know, putting on the TV for background noise or music and just going through the monotony routine of doing it. Nothing out of the ordinary happened and I didn't do anything out of the ordinary. Just a normal day off of work.

I went to bed at my normal time. Usually after late night was over. Still in my normal routine. But good god that




Copy Right Robbie Hoffman

Powered by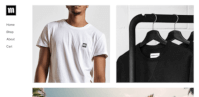 Create your own unique website with customizable templates.